Sandy was honored by the
Living Legends Jazz Series.
See pictures from this event
here
.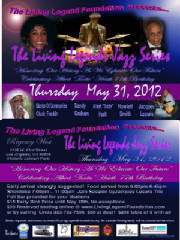 Guitarist, educator, and author Lin Flanagan on By Request:
"It's not often that I listen to music coming out of my computer thingy, and find myself saying 'Wow!' out loud........Your singing is drop-dead gorgeous, the arrangements and musicianship are silky smooth, and the choice of repertoire is extremely well-balanced.......I can hear your favorite singers...in your performances. But the blend of all these influences has contributed to a truly distinctive and personal style....Your own composition, 'By Request', sits very comfortably with the songs that you have chosen by the 'Great American Composers'."

Recent Performances
Encore performance at Catalina Jazz Club
Debut performance at Catalina Jazz Club, Hollywood
Vibrato Grill and Jazz Club, Brentwood
House of Music and Entertainment, Beverly Hills
Good Mornin' Heartache/Lover Man featured on Continental/Copa Airlines
Shivers Fund Celebration Concert Series, Colorado Springs
click here to see photos from this event!